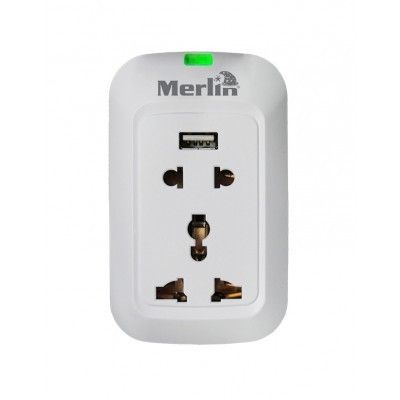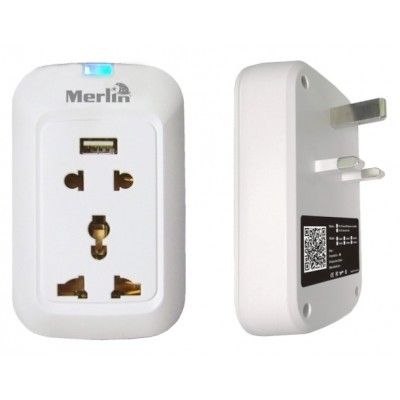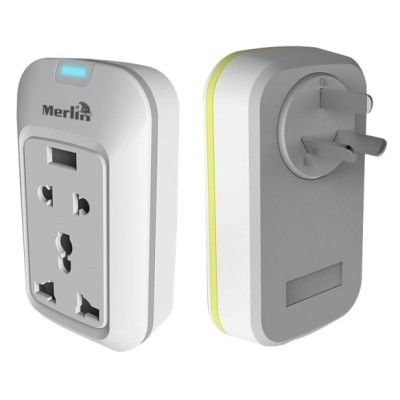 Description:
Turn electrical appliances on or off... from anywhere
The Merlin Smart Socket makes home automation super easy, letting you turn electrical devices on or off from an iPhone, iPad, or Android device, whether you're at home or not. The easy-to-setup Smart Socket can control multiple devices. Set schedules for your electrical appliances to turn on or off at specific time intervals, helping you reduce power consumption. The built-in USB fast charging port lets you charge your smartphone, tablet, and any other USB device.
 Features:
Simple plug-and-play setup
Operates over WiFi and mobile Internet, at home and away
Access and control the socket from anywhere in the world
Visually monitor energy consumption in real time
Easy to setup and use
Setting up the socket is as easy as plugging it into a power socket and configuring it from your smartphone via the free I-Smart app—takes just 60 seconds.

Control from anywhere
Once connected to your home WiFi network, Smart Socket lets you turn on or off your connected electrical appliances from anywhere in the world. All you need is a working mobile Internet connection.
 
Energy control at your fingertips
The intelligent sensor inside the Smart Socket sends power consumption data to your smartphone in real time, letting you monitor when the connected electrical appliances are turned on or off and the energy consumed.
Scheduled power on and off
I-Smart app lets you set schedules for devices connected to the Smart Socket. Now, no need to worry about the light that you left on in your bedroom or the heater that you're not sure was turned off.
Specification:
In Depth

• Power supply: 110-220V AC 
• Working voltage: 5V(USB) 
• Input current: 1A 
• Working temp: -20°C ~ 60°C 
• Remote distance: IR 10m
• Carrier frequency: 2.4G
• IR frequency: 38KHZ 
• Wireless type: Wi-fi-2.4GHz
• Wireless power ≤ 100mW
• Work environment: indoor
• Working humidity: ≤ 80%

Dimensions

12×12×30.5 cm

Weight

90