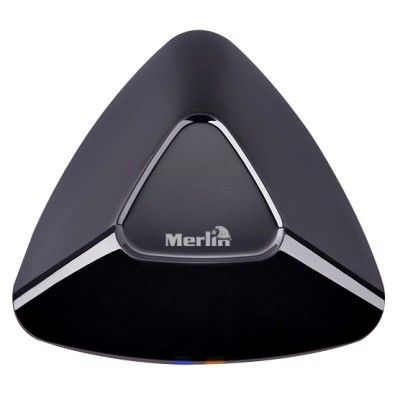 Description:
Control all your infrared devices at home—from anywhere
Wirelessly connect, monitor, and control all your infrared (IR) devices at home over a network and the Internet. The Merlin WiFi Controller provides a new level of home automation and control flexibility, enabling networking for your appliances without wiring. The easy-to-setup controller can be used to learn IR commands of virtually all IR-controlled home appliances.
 Features:
Built-in full-spectrum IR learner
Simple plug-and-play setup
Operates over WiFi and mobile Internet, at home and away
Ultra-compact device for convenient and unobtrusive connectivity
Supports multiple simultaneous connections
 
Smart universal remote
Use Merlin's WiFi Controller and the I-Smart app to transform your iPhone, iPad, and Android devices into a universal remote control in a matter of minutes. Use your smartphone to access and control your TV, DVD, set-top box, and almost any other electrical device from any room in the house without wiring.
360-degree design
WiFi Controller's ingenious 360-degree and compact design ensures that the controller can be used from anywhere in the room to wirelessly control all IR-controlled appliances.
 
Easy to setup and use
Since the WiFi Controller works over your home WiFi, you don't need any wiring or additional devices. Simply connect the WiFi Controller to a power source, and set it up using the I-Smart app to learn the IR commands of any IR remote control.
Control from anywhere
Once connected to your home WiFi network, WiFi Controller lets you turn on or off your connected appliances from anywhere in the world. All you need is a working mobile Internet connection. Now turn your home air-conditioner on before you reach home!
Specification:
In Depth

• Power supply: 110-220V AC 
• Working voltage: 5V(USB) 
• Input current: 1A 
• Working temp: -20°C ~ 60°C 
• Remote distance: IR 10m
• Carrier frequency: 2.4G
• IR frequency: 38KHZ 
• Wireless type: Wi-fi-2.4GHz
• Wireless power ≤ 100mW
• Work environment: indoor
• Working humidity: ≤ 80%

Dimensions

12×12×30.5 cm

Weight

90