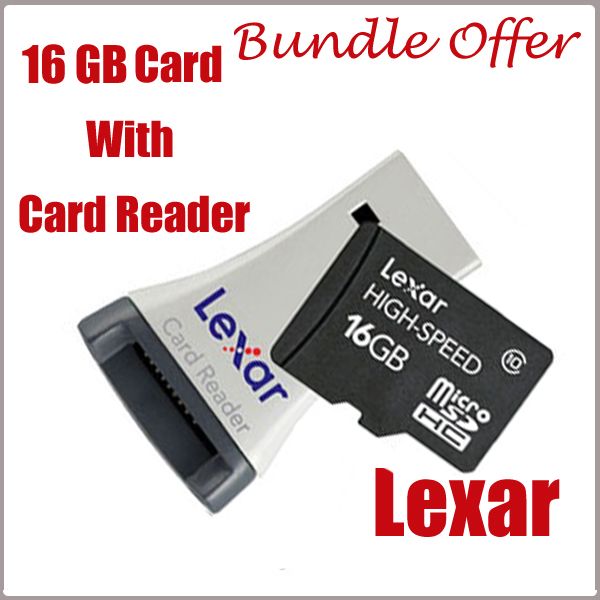 Lexar offers a comprehensive line of award-winning memory cards in various speeds, formats, and capacities. With so many options, it's easy to find the right Lexar solution to fit your needs.
The Lexar High-Speed Mobile microSDHC memory card is a high-speed, Class 10 card that allows for faster capture and transfer of media files onto your mobile phone. The card comes with a USB reader and sideload software to easily transfer and manage your files.
Do More with Your Phone
High-Speed Capture. The Lexar High-Speed Mobile microSDHC card lets you capture the highest quality videos or photos supported by today's high-performance camera phones. This makes it easy to capture lots of great moments with your mobile phone, whether you're snapping impromptu photos of friends or shooting high-quality, fast-action video on the go. The card also enables fast transfer of files between phone and computer.
Easily Sideload Media. More than just simple mobile storage, this high-speed card comes with everything you need to quickly and easily store, sideload, and manage your content. The card includes a USB reader and sideload software, making it easy to add large media files like HD video, music libraries, or personal photos to your mobile phone.
Add More Videos, Music, and Photos to Your Mobile Phone. With the limited storage space available on today's mobile phones, you need a high-capacity card to hold all your content.
Conveniently Connect, Transfer, Sync, and Upload Your Content. The USB reader lets you connect your microSDHC card to your computer, so you can easily transfer files from your PC directly to the card. And media management software for Windows operating system lets you easily manage and backup your captured and downloaded personal media, as well as sync the content between your mobile phone and PC. The software also enables you to preview your files, move them from one location to another, share them seamlessly and directly with friends, or upload them to popular sites like the Facebook social networking website, the YouTube video-sharing website, the Flickr photo-sharing community, and Picasa Web Albums.
Your All-In-One Mobile Memory Solution. The Lexar High-Speed Mobile microSDHC card, along with the reader and sideload software, provides an excellent all-in-one solution to quickly and easily capturing, transferring, and managing multimedia on your phone, great for your mobile lifestyle.
Lexar. When Memory Matters.
   Quickly capture and transfer files
   Easily sideload your multimedia, includes USB reader and sideload software
  Store, transfer, and manage your videos, music, and photos on your mobile phone
  Share files with friends, or upload them easily to popular online photo/video sharing websites
  Store up to 5,000 minutes of video
  4,000 songs
  Or 10,000 photos