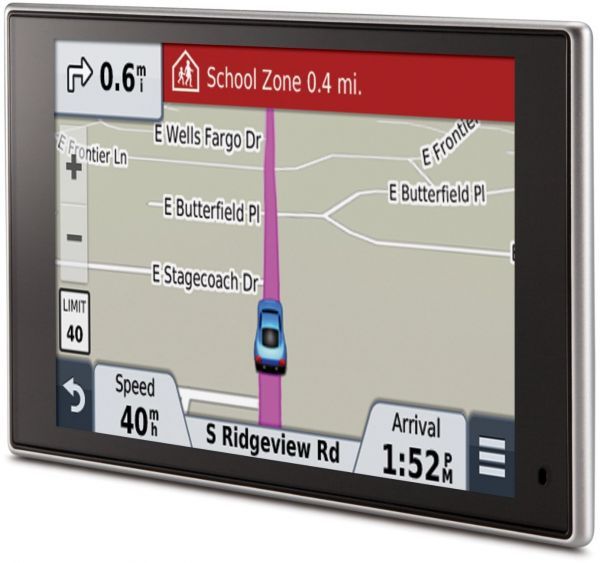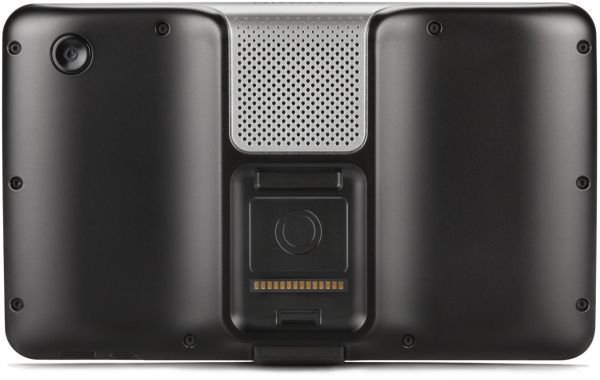 Prestige Series — Our Best Navigation
5.0" high res automatic dual-orientation display, with "pinch and zoom" capability
Detailed maps of North America with free lifetime¹ updates
Garmin Real Directions with Garmin Real Voice
HD Digital Traffic with free lifetime² traffic and weather alerts
Voice-activated navigation, Bluetooth and Smartphone Link compatible

Crisp, High Resolution Display
nüvi 3597LMTHD has a 5.0" high resolution display with "pinch and zoom" capability, so you can quickly get a closer look at any onscreen information. Dual-orientation capabilities allow you to use nüvi 3597LMTHD either horizontally or vertically.
Detailed Maps with Free Updates
nüvi 3597LMTHD arrives loaded with detailed maps of North America. With free lifetime¹ map updates, your routes are sure to reflect the most up-to-date maps, POIs (points of interest) and navigation information. New maps are available for download with no fees.
With so much data, nüvi 3597LMTHD makes it easy to find addresses and millions of POIs such as businesses, stores, restaurants and other destinations. nüvi 3597LMTHD arrives preloaded with POIs, so there's no need for you to enter that address information. Just select one — or many — and navigate there, quickly and easily. You also have the ability to add custom POIs to your nüvi 3597LMTHD.
The Best of Our Traffic Solutions
HD Digital Traffic is our best traffic solution. HD Digital Traffic receives updates up to every 30 seconds, making it up to 10 times faster than other traffic systems. That means, driving 60 mph, your nüvi 3597LMTHD is able to receive traffic messages up to every half-mile. On the road, a few seconds' notice can save minutes or even hours of delay.
HD Digital Traffic has a greater coverage area to include interstates, highways and secondary roads — in fact, up to 3 times more side road coverage. HD Digital Traffic has the capacity to receive significantly more traffic messages — and it receives free HD Weather, including current temperature and 6-day forecasts (free software update may be required).That valuable information can help you decide whether to stay the course or find another route. HD Digital Traffic is dedicated traffic information and it's free — no distracting advertising and no subscription fees, ever.
On the nüvi 3597LMTHD, traffic alerts appear to the side of your map, so your driving map remains onscreen. Traffic messages are spoken, too. Garmin Traffic is voice activated, so it responds to spoken requests. Garmin Traffic can give details about the situation, such as how many minutes of delay to expect and if there are any possible detours. It can even confirm whether or not you are on the fastest route.
Lifetime traffic² entitles your nüvi 3597LMTHD to receive free traffic information for its entire useful life.
The Power of Your Voice
nüvi 3597LMTHD has the luxury of voice-activated navigation. Speak, and your device intelligently responds; your hands can remain safely on the wheel. Of course, you can also navigate using the touchscreen interface.
Garmin Real Directions™ with Garmin Real Voice™
nüvi 3597LMTHD redefines "spoken turn-by-turn directions" with Garmin Real Directions, easy-to-understand driving directions that guide like a friend, using recognizable landmarks, buildings and traffic lights. No more stress from trying to read street names. Garmin Real Voice is refined speech technology that sounds more like a natural, friendly voice. Garmin Real Directions and Garmin Real Voice are features that are only available in our line of GPS navigators.
Bluetooth® Compatible
Sync a Bluetooth-enabled device, such as your smartphone, to nüvi 3597LMTHD for hands-free calling through its integrated microphone and speaker. Safely stow your phone in a glove compartment, pocket or purse and still make and take calls without moving your hands from the steering wheel or your eyes from the road.
Smartphone Link Compatible
Smartphone Link is a free mobile app that connects your nüvi 3597LMTHD with your iPhone® or Android™ smartphone. When paired, your nüvi 3597LMTHD can use your phone's existing data plan³ to share information — such as where you parked, POIs and your destination.
Physical & Performance

Physical dimensions
5.4"W x 3.1"H x 0.5"D (13.8 x 7.7 x 1.3 cm)
Display size, WxH
4.3"W x 2.9"H (10.9 x 6.5 cm); 5" diag (12.7 cm)
Display resolution, WxH
800 x 480 pixels
Display type
multi-touch, glass, dual-orientation, WVGA color TFT with white backlight
Weight
6.8 oz (192 g)
Battery
rechargeable lithium-ion
Battery life
Up to 2 hours
High-sensitivity receiver
Yes
Maps & Memory

Preloaded street maps
Yes
Includes lifetime map updates
Yes
3-D terrain view
Yes
3-D buildings and landmarks view
Yes
Built-in memory
yes
Accepts data cards
microSD™ card (not included)
Waypoints/favorites/locations
1000
Features & Benefits

Features That Save Time & Money
Voice prompts (e.g. "Turn right in 500 ft.")
Yes (Internal and mount speaker)
Speaks street names (e.g. "Turn right ON ELM STREET in 500 ft.")
Yes (with Garmin Real Directions™)
Voice-activated navigation (operate device with spoken commands)
Yes
Traffic compatible (routes around traffic with a receiver and subscription)
Yes (with HD Digital Traffic)
Lifetime traffic updates (receive free lifetime traffic updates)
Yes
Lane assist (guides to proper lane for navigation)
Yes
Junction view (displays junction signs)
Yes
myTrends™ (predicts your routes)
Yes
trafficTrends™ (calculates routes based on predicted traffic flow)
Yes
Auto sort multiple destinations (provides most direct route)
Yes
Route avoidance (avoid highways, tolls etc.)
Yes
Safe Navigation Features
Bluetooth® wireless technology
Yes
Speed limit indicator (displays speed limit for most major roads in the U.S. and Europe)
Yes
Where Am I? (find closest hospitals, police & gas stations, nearest address & intersection)
Yes
Custom POIs (ability to add additional points of interest)
Yes
Customizable Features
Garmin Garage™ vehicles compatible (download car-shaped icons to your device)
Yes
Garmin Garage™ voices compatible (download custom voices to your device)
Yes