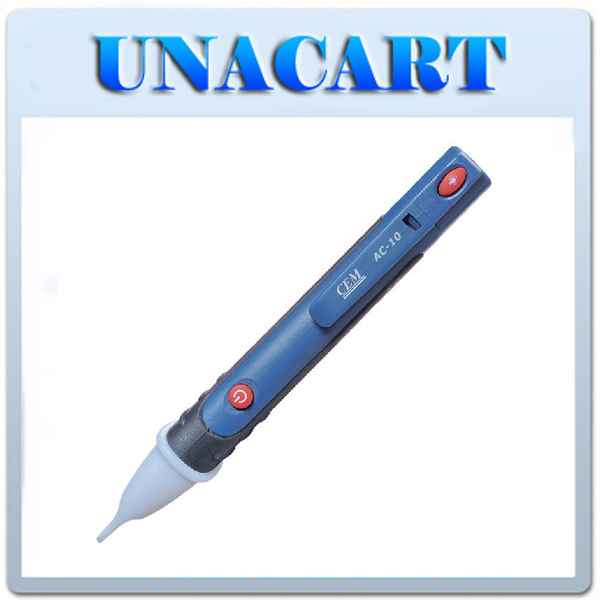 Brief:
The Non-contact AC Voltage Testers are easy to use — just touch the tip to a terminal strip, outlet, or supply cord. When the tip glows red and the unit beeps, you know there's voltage present. Electricians, maintenance, service, safety, personnel, and homeowners can quickly test for energized circuits in the workplace or at home.
1. Can continuous self-test, so you always know it's working
2. Upon detection, tip glows and beeper sounds
3. Expanded range: 90V to 1000V AC
Features:
1.        Non-Contact Detection of AC Voltage from 90VAC to 1000VAC(50/60Hz)
3.        Rugged, double molded case
4.        Suitable for outlets or against wire insulation testing
5.        Flashing red LED light indicator
6.        Built-in bright fl ashlight with ON/OFF button
7.        Convenient size with pocket clip
8.        For use on 50/60Hz circuits
9.        Blue light means you're close
10.      Red LED light and audible beeper indicator
11.      NCV, wide range and high sensitivity from 12V to 1000V
12.      Battery: 2x"AAA"1.5V
Specifications:
Standard

EN61010-1.EN61326.CATIV1000V

Operating Range

VoltFinder: 90 ~ 1000V AC;

Operating Temp.

0°C ~ 40°C(32~104)

Operating Humidity

0°C ~ 30°C; 95%RH

30°C ~ 40°C; 75%RH

40°C ~ 50°C; 45%RH

Size(HxWxD)

158mm x 25mm x 22mm

Weight

49.5g
 Warm tips: 
If the green light is not bright,don't use.

Low battery reminder: 1 Green LED lights from stable to flicker, and at the same time produce beeping hum. Not at this time for testing. Need to replace batteries, detailed steps refer to "change the battery". 2 If the LED lights dimmed and the hum, you need to replace new batteries. 

This tester is suitable for families, schools, offices, manufacturing and other places of ac voltage detection and non-contact operation with great convenience and safety.