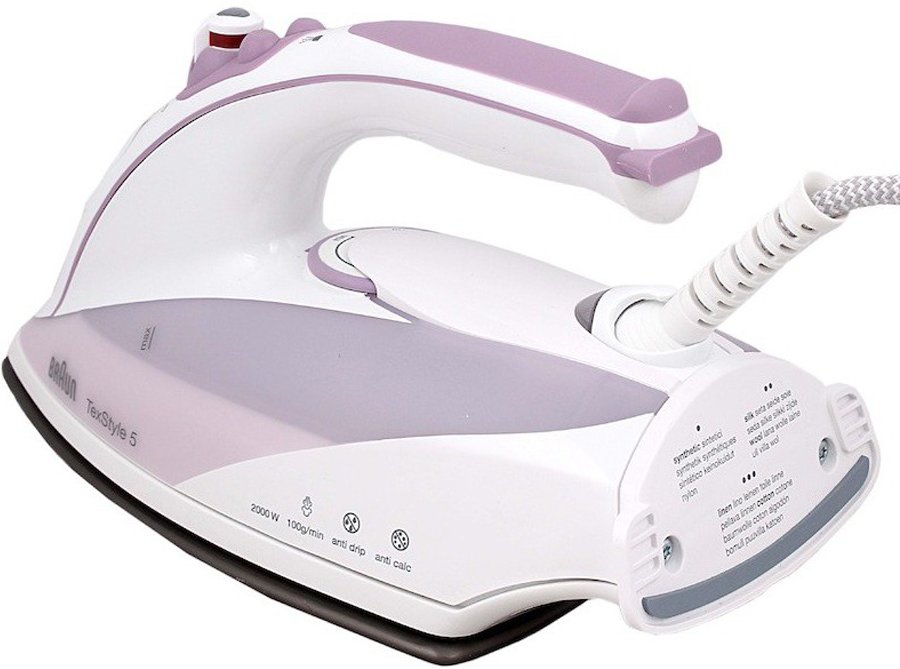 Specification: 
Capacities

Water tank capacity:

300ml

Function and size

Water spray:

Yes

General specifications

Colour:

White/mallow

Ergonomic open handle:

Yes                                                                                                                                                     

Sole plate:

Eloxal

Variable steam:

0-30g/min

Wattage

:2000W

Miscellaneous

Anti-calc system:

Yes

Anti-drip:Yes

Yes

Full steam intensity out of 108 vents, 2 active areas incl. preconditioning steam:

Yes

Power cord:

2 m

Precision shot/Horizontal and vertical steam:

100g/min

Suitable for tap water:

Yes
Features:
TexStyle 5 steam iron TS505
Whether you are seeking supreme perfection or simply the fastest way to iron, Braun has the right product for you. The ultimate technology assures seamless results on all types of garments due to effective steam solutions and high-quality soleplates: intuitive design for high performance and flawless, premium results.The ergonomically designed TexStyle 5 with open handle is 20% lighter* for greater comfort and freedom of movement to make ironing an effortless pleasure, especially when you have loads to iron.
Eloxal soleplate
Patented anodized coat ensures great scratch resistance and optimal glideability
 Steam Shot
Steam shot up to 100 g/min, even vertically – perfect for removing creases in curtains and garments.
 Light weight
 Comfort of use is ensured by the product ergonomics and light weight.
Ergonomic open handle:
Soft touch ensures maximum comfort and gre
ater ease of use. 
300ml water tank:
For longer ironing autonomy
Unique Eloxal soleplate
Smoothes perfectly and fast over all garments. 15 t-shirts ironed in 30 mins.
Precision tip
This powerful triangle steam shot effortlessly smooths even the toughest creases, such as in linen. It can also be used vertically, which is perfect for removing creases in curtains and hanging garments. The steam can be raised to as high as 210 g/min by pressing the "steam shot" button