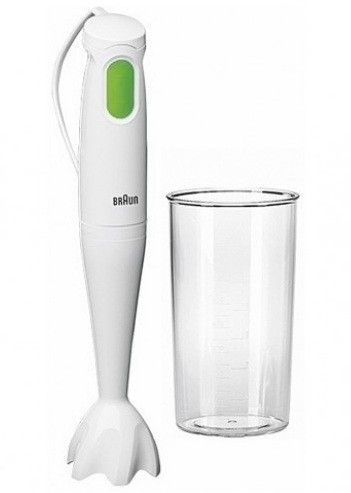 Features:
Simple speed activation
Start blending the easy way – simply with one touch.
Compact and handy
For easy handling and easy storage. 
Beaker
600 ml plastic beaker, BPA free, with ml and fl oz measurements.
Power Bell technology
Patented hand blender technology. Proven to produce finer and more even blending for perfect results. Unique anti-splash design to ensure a spotless kitchen.
Power Bell technology: 3 key factors to ensure perfect blending results.
Ultra hard stainless steel blades
Angled in opposite direction to optimize blending results and reduce suction.
Unique floral bell shape
Turned opposite direction to the blades, draws food towards angled blades for faster blending results.
6 feet
Ensures optimum flow into blade area, prevents anti-splash and allows larger foods to be processed from all sides.