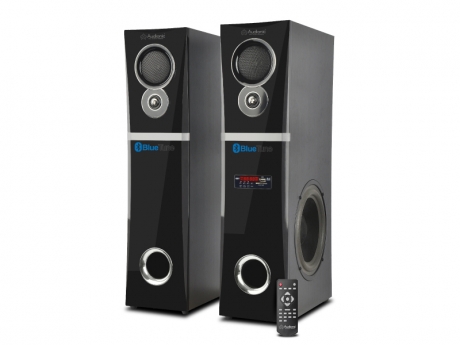 Product Description
Audionic Bluetune 2.0 Channel hi-fi Speakers is perfect for big rooms that need big sound, unleash the driving bass, lush midrange, and soaring highs of a multi-speaker audio system. Connect it with any bluetooth device like mobile phone, laptop, or Tablet pc and enjoy the Perfect sound. There are so many other inputs are also avaiablable like auxillary, USB / SD/ MMC and FM Radio. No worrys The Audionic blue tunes speakers are with One year International Warrnty. 
Bluetooth Wireless
Use your computer*, tablet or smartphone to control your music and stream audio wirelessly. Whether next to the Blue tunes or across the room, you'll enjoy wireless freedom and simplicity.
Excellent sound for any speace
Audionic Blue Tunes speaker delivers clear, room-filling sound. The 2.0 Channel Hi Fi Audio system is engineered to provide superior acoustics for any space.
Works with non-Bluetooth devices
Connect the BT 1050 wirelessly to computers that don't support Bluetooth using the USB transceiver. Or, use the 3.5 mm auxiliary input to plug in any device with audio output like TVs, music players or game consoles.
Easy Controls
Audionic BT 1050 2.0 Channel Hi Fi Speakers have remote with it. You can control all the functions from distance. No need to move for every action.